The new Spa and Wellness Centre Sárvár, which conforms to international standards, was opened on the 1st of December 2002.<![if !vml]>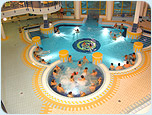 <![endif]>
The aim of this new facility is to cater for all generations. It covers an area of 55 000 sq metres and contains a water surface area of 3 600 square metres. All this awaits potential visitors along with numerous healing, health maintenance and recreational services.
<![if !vml]>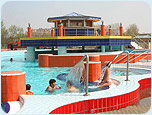 <![endif]>The idea of wellness is becoming increasingly popular nowadays. This fact is reflected in the construction of this establishment, which as previously mentioned, conforms to world standards.
The spa provides numerous special services to satisfy all age groups and the complex is capable of meeting not only the requirements of more traditional health remedy seeking visitors but also of families, young people and children.
The facilities listed below are at the disposal of guests all year round:
- Indoor Health Spa Pool 37 °C
- Partly Covered Health Spa Pool 36 °C
- Partly Covered Experience Pool 33 °C
- Toddlers' Splash Pool 30 °C
- Ailments Cure Centre
- Ambulance
- Fitness Centre
- Wellness Centre
- Sauna World
- Beauty Salon
- Various Catering Services
From spring until autumn the following services are available at the disposal of our guests:
- Multi Functional Beach Pool (1800 m2) which is suitable for swimming and comes complete with a slide
- Wave pool
- Jumping board
- Garden Area (for sunbathing)
- Children's Adventure Pool
- Toddlers' Splash Pool
- Playground
- Sports' Pitches: beach volleyball, small pitch football, petanque (boules)
- Summer Food, Refreshment and Catering Places (Snack-bar, Wellness-bar, Ice-bar)
The most attractive part of the Sarvar area is without doubt its two completely different types of healing water upon which the development of Sarvar is based. In the Sarvar area, healing water which springs from a depth of 1200 metres reaches a temperature of 43 °C, while the water which originates from a depth of 2000 metres has a very high salt content and reaches the much higher temperature of 83 °C.
From the 83 °C rich saline water, the famous Sarvar crystal is produced through the process of evaporation. This salt abundant medicinal healing water can be used effectively in the treatment of certain ailments and locomotive diseases as well as for dermatology and gynaecology.
The 43 °C thermal water contains alkaline hydrogen carbonates and is especially suitable for the treatment of locomotive disorders, rehabilitative after-treatment ( including sport injuries), neurological complaints and muscle relaxing baths.